LISBON BERLIN TRIO/QUARTET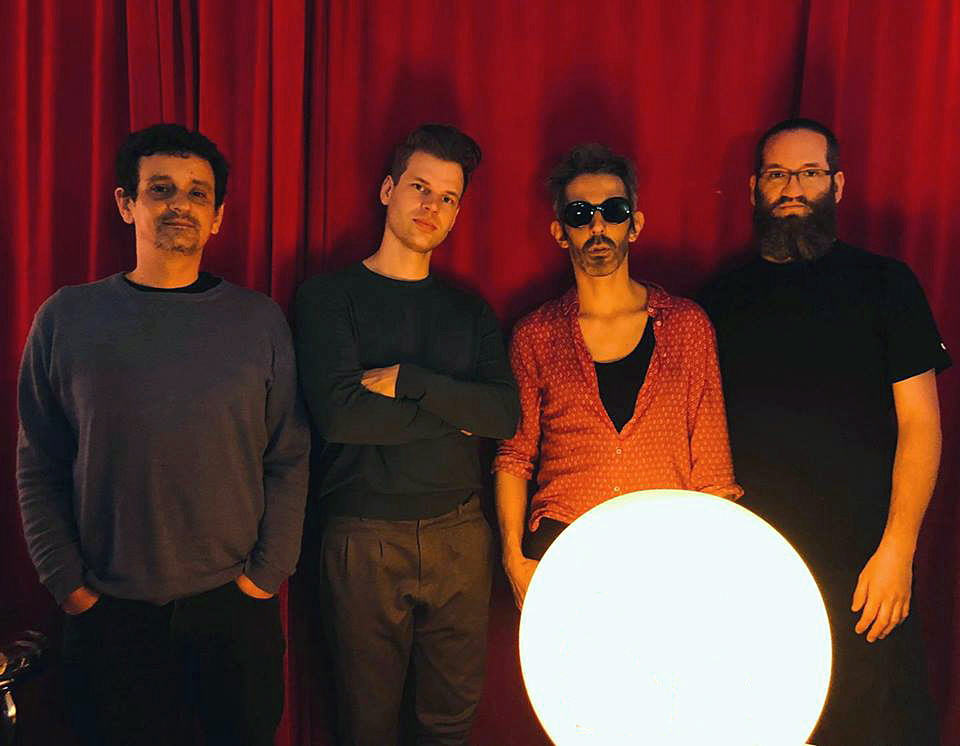 new quartet CD:
Lisbon Berlin Quartet "Sinister Hypnotization"
Luís Lopes – electric guitar
Rodrigo Pinheiro – fender rhodes
Robert Landfermann – double bass
Christian Lillinger - drums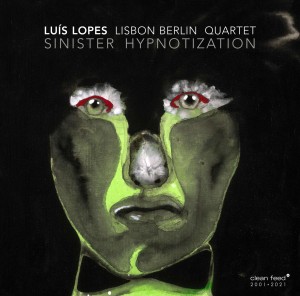 cover Art by Adriana Molder
press release/liner notes by Stuart Broomer:
Luis Lopes' Lisbon Berlin Quartet immediately references the residences of the contributing musicians, Lopes and Rodrigo Pinheiro from Lisbon, Robert Landfermann and Christian Lillinger from Berlin, but there's more than this that feeds the specific urban relations of this music. To say each is a city with a past, is understatement. If Berlin will loom larger in general histories, from the nightmare of Nazism and the following decades of division, the wall and the refined horrors of the Stasi, Lisbon has a special claim on duplicity, given the half-century reign of the Salazar dictatorship, a fascist regime that preferred relationships with major Western 'democracies'_ England, America_ which in turn found secret police, torture and oppression easily overlooked for an ally in the war against communism. It was a duplicity that once made Lisbon an espionage hub, a network of spies, lies and conspiracies as much as a city. Lopes' Lisbon Berlin references all of that indirectly, but it's a contemporary vision—forcefields and fault lines, underground and skyline, alive from road to rail to phone to rail to phone to cloud, all that data congealing in space, messages breaking up into compound futurities.
The band exercises a brilliant fury, parts mirror one another, sounds may be distinct_ there's definitely something special about Landfermann's upright bass, often bowed but through pedals and amp creating a hybrid monster of acoustic and electronic genes_but it's the wild reflective possibilities of all those high-volume sounds, bouncing off studio walls at a pace in which sonic after-images present undreamed of future cities, third-world Metropolises with contemporary social problems wed to future mutations. Pinheiro, elsewhere master of a certain contemporary classicism, here pursues his own electronic bent, a happy partner and prod to Lopes' amplified kinetics, while Lillinger, here and elsewhere, exercises a combination of chance and precision that could make him the defining drummer of a generation
Music (Quartet):
—
Luís Lopes and the rhythm section provided by Robert Landfermann and Christian Lillinger are three good examples of a new generation of European musicians with a rather distinctive understanding of the musical language called "jazz". They don't specially care to give a 21st century content to the jazz format; it just happens they enjoy, and play, different kinds of music, and usually do it crossing boundaries and mixing vocabularies.
Lopes studied jazz but has a blues and rock/punk background and, as such, loves to use riffs and has a special liking for feedback, distortion and electrical textures and noises. To Landfermann and Lillinger, there's no real incompatibility between hard bop structures, free form improvisation and punk beats; they use everything possible if it fits and makes sense to them. The result is, truly saying, jazz of the 21st century, but without a program of intentions.
The Lisbon Berlin Trio is as intuitive and authentic as it can be, always searching for new structures and textures, and that's what really matters here. That, and the high quality achieved on their two adventure albuns released on Clean Feed Records: "Lisbon Berlin Trio" (2011) and this very new "The Line" (2014). Check it Out!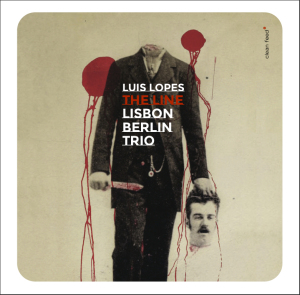 Luis Lopes has been building a singular and well defined personal path, characterised by a unique voice, free from constraints and mannerisms regarding strict stilistical implications. Running Multi-international groups, especially he's Humanization 4tet (with Portuguese Rodrigo Amado and Texan's Aaron and Stefan Gonzalez), Lisbon Berlin Trio (with Germans Christian Lillinger and Robert Landfermann), plus his highly recommended records he is growing as an international artist, playing at important Festivals and venues not just in Portugal but in Europe and U.S.
Coming from a rock/punk and blues background, while studying at local classic and rock schools, he began studying Jazz at Hot Club Portugal School and then was finalist at Escola de Jazz do Barreiro. Then did studies with Saxophonist Joe Giardullo who opened for him the doors of modern jazz harmony complexity through the George Russell's "Lydian Chromatic Concept of Tonal Organization", plunging Lopes into the world of improvised and experimental music, without disregard for his fascination with distorion and guitar feedbacks, expressed in different incursions into noise music, while also canalizes energys towards projects where he can develop his composing abilities.
In more recent times, Lopes has played and / or recorded with different artists connected to jazz and improvised music, such as Noel Akchoté, Christian Lillinger, Robert Landfermann, Marco Von Orelly, Marc Unternahrer, Adam Lane, Igal Foni, Floros Floridis, Joe Giardulo, Harvey Sorgen, Benjamin Duboc, Phill Niblock, Ernesto Rodrigues, Paulo Curado, Sei Miguel, Rodrigo Amado, Aaron Gonzalez, Stefan Gonzalez, Dennis Gonzalez, Elliot Levin, Alfred Hart, Daniel Levin, Reuben Radding, Daniel Carter, Jeb Bishop, Josh Abrams, Jean-Luc Guionnet, Samuel Blaser, Boris Hauf, Evan Parker, among many others.
—
Christian Lillinger Born on April 21st 1984 in Lübben, he started playing drums at the age of 13 and was studied at the "Carl Maria von Weber" in Dresden from 2000 to 2004. From 2001 to 2003 he was a member of "Bujazzo" under the direction of Peter Herbholzheimer. In 2000 he won the International Improvisation Contest in Leipzig.
Since 2002 he's been collaborating intensively with HYPERACTIVE KID. In 2008 he formed his own band GRUND, which in September 2009 and 2013 on the label Clean Feed appeared. 2009 co-founder of the band GRÜNEN, which appears in September 2010 on the Clean Feed label. 2010 Concerts and cooperation in the band by John Tchicai with Christopher Dell and Jonas Westergaard, which appears in December 2012 on the label Jazzerkstatt.
He performed in concerts and at festivals in Europe, Asia and USA. He played with Joachim Kühn, Beat Furrer, David Liebmann, Leo Smith, Wiliam Parker, Evan Parker, Miroslav Vitous, Louis Sclavis, Joe Lovano Tony Malaby, etc.Lillinger is living in Berlin since 2003 working as a musician and composer.
—
Robert Landfermann received from the age of seven years of classic guitar lessons. In1998 he moved to the doublebass and took lessons untill 2002 in Bonn with Gunnar Plumer. From 2002 to 2009 he studied, special degree "Konzertexamen" with Dieter Manderscheid at the cologne Music Academy. It was between 2002 and 2004 to the National Youth Jazz Orchestra NRW and from 2003 to 2005 National Youth Jazz Orchestra under the direction of Peter Herbolzheimer. He also took classes and attended workshops with musicians such as Mark Dresser and Mike Richmond. Since 2011 teaching Jazz doublebass at the Folkwang University of Arts in Essen
He worked with John Scofield, Lee Konitz, Django Bates, Tomasz Stanko. Barre Philips, Jiggs Whigham, Charlie Mariano, John Taylor, Joaquim Kuhn, Peter Weniger, Matthias Erlewein, Paul Heller and Norbert Scholly, Dave Liebman, Simon Nabatov, Chris Potter, Urs Leimgruber, Jim Black, Peter Evans, Manfred Schoof, Tobias Delius, Achim Kaufmann, Julian Argueilles, Frank Gratkowski, Markus Stockausen, Rudi Mahall, Axel Dorner, among many others. In 2006 he founded the trio The friendly takeover with Jonas Burgwinkel and Niels Klein. Since 2008 he is part of Pablo Held Trio. He is also a member of Matthias Schriefl Schriefpunk, with whom he also curated the jazz-o-rama series in Cologne style theater. In 2008 he was a German member of the EBU European Jazz Orchestra. Since the same year he presented at the Cologne Loft concert series "Not Without Robert" in which it occurs with very different musicians
Concert turs have taken him to over 50 countries on all continents, in famous concerthalls and international festivals. Together with Niels Klein, Frederik Koster, Pablo Held, Jonas Burgwinkel, Tobias Hoffmann and Tobias Christl he is part of the cologne Jazz Collective Klaeng
From Jonas Burgwinkel 2009 he received the WDR Jazz Award for improvisation. In the same year he received the scholarship from the Jazz Cologne Horst and Gretl Will Foundation. With the quartet of Frederik Koster he won also 10 2009 the New German Jazz Award . And in 2014 the SWR –Jazzpreis
photo by Márcia Lessa

Press:
about "The Line" (clean Feed, 2014)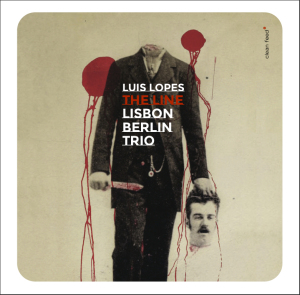 "Lopes convie l'auditeur à une nouvelle odyssée vertigineuse avec « The Line » […] Impressionnant alliage de force et de finesse, voici donc une nouvelle et tonifiante réussite à l'actif de Luis Lopes et de ses acolytes."  David Cristol – Improjazz
"Un trabajo oscuro. Penetrante. Que a más de uno le puede parecer una locura sin sustancia. OK, toda opinión puede respetarse. Pero no la compartiría […} En mi caso personal, entro. Sufro. Me obsesiono. Salgo por momentos cuando hay necesidad de aire. Pero me conozco y vuelvo. Lo necesito."  TomaJazz, por Jesus Mateo Rosseló
"Neste seu segundo título, o Lisbon Berlin Trio dá um passo além, trazendo um capítulo mais inflamado e urgente à sua música. O power trio liderado pelo guitarrista português Luis Lopes (com ele estão o baixista Robert Landfermann e o baterista Christian Lillinger, ambos alemães) destila uma energia sem retoques, centrada e direta. Pode-se falar em noise, rock, free, improvisação: todos esses elementos estão presentes, oscilando de uma faixa a outra"   FreeForm, FreeJazz, por Fabrício Vieira
"The three together make an extreme cacophony that is as exhilarating to hear as it is enveloping of all your musical senses. A terrific blast of sound! If you revel on the fringes of the outside realm, this one is definitely for you. Excellent!"  Gapplegate Guitar and Bass Blog by Grego Applegate Edwards
"La pochette de The Line, le second album du Lisbon Berlin Trio ne laisse guère de doute quant au contenu. Le power trio du grand guitariste lusitanien Luis Lopes est une chevauchée dans des recoins sombres, peuplés d'esprits inquiétants et frappeurs. C'est tout le sens de ce corps suplicié qui tient encore le couteau avec lequel il s'est tranché le cou."   Sun Ship Blog pour Franpi Barriaux
It certainly seems that this trio is Luis Lopes' experimentation unit that forges ahead with the sonic explorations that his other projects might benefit from in a more refined and subtler way.  Having said that I much prefer the rough forms and purely creative play that the Lisbon Berlin Trio has to offer over that of his other work.  This is at times a demanding album and due to the selection of materials that are worked with it is not as immediate as the debut, but the eventual pay-off is nearly as great."∗∗∗∗   Free jazz Blog By Chris Haines
"Een merkwaardig einde voor een plaat die de ingeslagen weg van zijn voorganger verder verkent, maar dan met extremere pieken en een compactere duur. Het samenspel is tegelijkertijd provocerend en energiek, maar vormt ook een samenhangend front om tegen te pletter te slaan. Live moet dit aankomen als een handgranaat die ontploft in je gezicht. Verdomd opwindend."  Guy Peters – Enola Magazine
"On their sophomore album The Line, the threesome gravitate towards the power trio default setting for much of the 39-minute live program […] episodes suggest there may be lots more fertile ground for the trio to probe in the future once they get the catharsis out of the way." New York City Jazz by John Sharpe
Com este segundo disco, Lopes mostra que a ligação com Landfermann e Lillinger não se trata apenas de um flirt ocasional, tendo já evoluído para uma relação séria. E ainda bem, pois talvez seja este trio o veículo onde o guitarrista melhor exprime a sua vasta amplitude sónica."  Jornal Público, Nuno Catarino ∗∗∗∗
With his Lisbon Berlin Trio of bassist Robert Landfermann and drummer Christian Lillinger, he can realize a vision of jazz that ties together noise, rocked-out time sequences, and free improvisation. This disc follows their self-titled 2011 Clean Feed debut […] The music has a premonition it may implode (maybe explode) at any moment. The edge this trio develops is unmistakable and intoxicating. Disturbing here is good, or maybe this music comforts?"  Mark Corroto All About Jazz New York
"Platen avsluttes med trioens «Schwarzwald», nok en relativt frittgående sak. Nå har jeg aldri vært i Schwarzwald i Syd-Tyskland, men hvis denne låta prøver å beskrive landskapet, folket eller området, så tror jeg ikke det står øverst på min sommerferieliste de kommende årene […] En trio som mer enn gjerne kan få spillejobb på for eksempel All Ears-festivalen i Oslo. Der hadde de passet perfekt inn.
En spennende plate, som dessverre blir litt for ensformig på noen av sporene, men interessant å høre at slik musikk også lages i Portugal."  SALT PEANUTS by Jan Granlie 
Luis Lopes Lisbon Berlin Trio: The Line (2014, Clean Feed): electric guitarist, plays the feedback as much as the guitar, w/bass-drums from Grunen [cd]: A-  Tom Hull
about debut álbum "Lisbon Berlin Trio"(Clean Feed, 2011):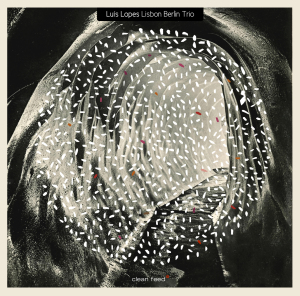 "Overall, a very nice album in which all the songs belie a telepathy between the musitians. It is a trio that I hope to hear more from in the future"   Freejazz Stef, by Paul Acquaro
"Miss this one and you will miss something that may cause you remiss. All plectrists and friends of stringers, take note!"   Grego Applegate Edwards, Gapplegate guitar and bass Blog
"È cosa buona munirsi di pazienza e della giusta voglia di cercare in profondità la valenza di questo lavoro, dedicato a chi ha il carattere adatto per incamminarsi in un'esperienza a ostacoli, concretamente difficile e insidiosa."   All About Jazz Italy review by Roberto Paviglianiti
"A música avança, vão surgindo ideias, territórios comuns, e cada músico – sem ceder à tentação de um caminho único, óbvio – vai articulando em tempo real soluções de compromisso. É esta a magia da improvisação, que os três instrumentistas confirmam dominar com mestria."   Ípsilon-Jornal Público por Nuno Catarino
photo by Márcia Lessa

Music (trio):
From "The Line" (Clean Feed 312 – 2014)
From "Lisbon Berlin Trio" (Clean Feed 234 – 2011)