HUMANIZATION 4TET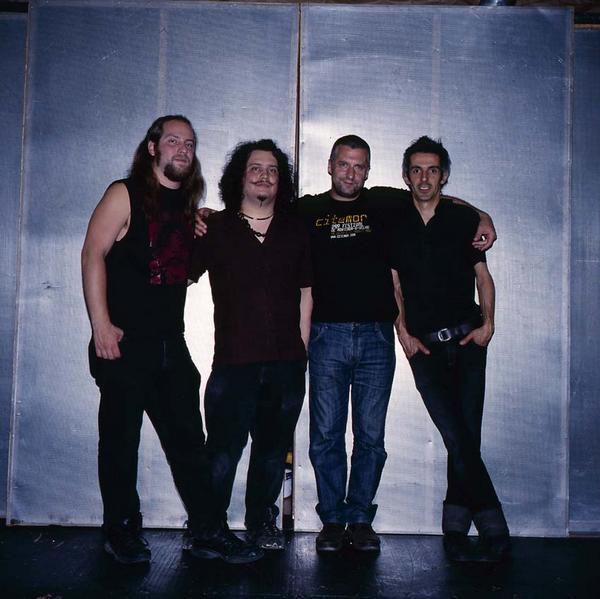 Luis Lopes – electric guitar
Rodrigo Amado – tenor sax
Aaron Gonzalez – doublebass
Stefan Gonzalez – drums
—
Humanization 4tet is a Portugal / Texas band which joins Portuguese guitar player Luís Lopes and saxophonist Rodrigo Amado with Texan brothers Aaron Gonzalez, bassist, and drummer Stefan Gonzalez.
Rooted in jazz, the band practices in a dynamic way a music that can run from the simplest melody to the most aggressive noise, or from the most organic improvisation towards more targeted composition, never losing sight of its primary objective of conceptual construction and implementation of an identity. This is reflected in their three internationally acclaimed albums, the very new "Live in Madison" by Ayler Records, "Electricity" by Ayler Records too, and "Humanization 4tet" debut álbum on the Portuguese label Clean Feed (named the best album of 2008 by Portuguese jazz magazine Jazz.pt).
In Portugal they have played at Gulbenkian Foundation's Jazz em Agosto Festival 2011, Seixal Jazz Festival 2009, Stº André AlémTejo Jazz Festival 2009, Festa do Jazz Português S. Luíz Festival 2008, ZDB 2008, CCB – Centro Cultural Belém 2007, Hot Clube 2007, among many others. In the United States they put together two tours (2009 and 2011) where they played at places like Sandaga Market and Phoenix Project in Dallas; Firehouse Gallery in Fort Worth; The Salvage Vanguard Theatre and Trailer Space Records in Austin; Avant Garden and Project Row Houses in Houston, The Blue Nile, Chickie Wah Wah, Zeitgeist and Snug Harbor in New Orleans; Bobo Gallery in Asheville; Eyedrum Gallery in Atlanta; Bossa in Washington; Philadelphia's Fiume, Leroy's Lounge, Osvaldo Romberg Studio and The Wherehouse; Union Pool in Brooklyn; Downtown Music Gallery and The Stone (Clean Feed N.Y. Fest 2011) in New York; The Hideout in Chicago; and Madison's Audio For The Arts, among others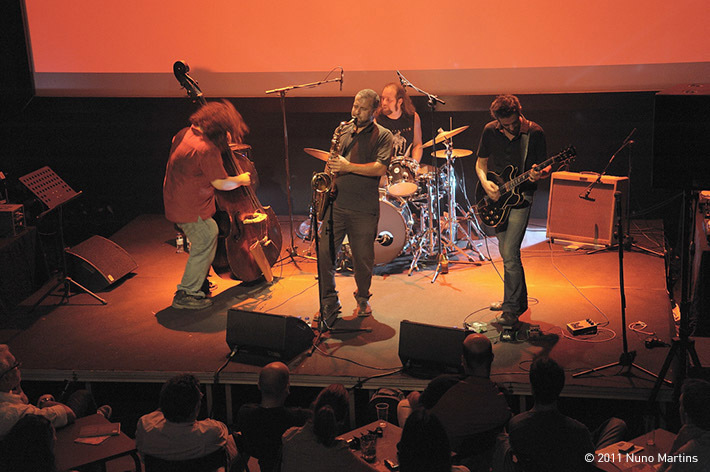 Rodrigo Amado - "At the shifting boundary between free jazz and improvised music, Rodrigo Amado's position is clear: he plays jazz. He is so clearly a jazz musician that he doesn't require any pre-determined elements of rhythm, harmony, chorus lengths or melody to play jazz. There's a rhythmic impetus, a bite in his sound, part grain, part beat, and it drives his lines forward, a sound and an impulse that are part him and part history, a fundamental impress on the world that tenor saxophonists like Coleman Hawkins, Eddie "Lockjaw" Davis, Sonny Rollins, and Archie Shepp have been making for generations. On his CD Searching for Adam, Rodrigo Amado quotes another saxophonist, Sam Rivers: "Freedom does not mean unconditional renunciation of melody and rhythm, but the freedom of being able to choose what I want to play" It's a fitting credo for Amado, whose music dances across the boundaries of free jazz and improvised music. There's rarely a theme in earshot, but there's an abundance of energized particles and a strongly focused voice. In the past decade, he has matched impulses with a series of international partners while building distinctive Lisbon bands like Motion Trio or the Wire Quartet. Amado is an emerging master of a great tradition, more apparent with each new recording or performance." Stuart Broomer
—
Aaron and Stefan Gonzalez are two young musicians who have divided their careers between jazz/improvised/experimental music and projects geared towards hardcore punk. They are members, along with their father, the renowned trumpeter Dennis Gonzalez, of the band "Yells at Eels", having recorded five albums. The Gonzalez brothers have recently played and recorded with pianist Curtis Clark's trio, and have collaborated and recorded with acclaimed musicians such as Louis Moholo-Moholo, Ingebrigt Haker Flaten, Alvin Fielder, Tim Green, Famoudou Don Moye, Leena Conquest, Ariel Pink, among many others.
—
Benefitting from growing international recognition and visibility, Luís Lopes has built a singular and well-defined path, characterised by a unique voice, free from constraints and mannerisms regarding strict stylistic implications. Coming from a rock and blues background, he studied jazz, opting then to explore the universe of concrete improvisation and experimental music, without disregarding his fascination with distortion and guitar feedback, expressed in different incursions into noise music, while also channeling his energy towards projects where he can develop His composing abilities like his Love Song solos or Lisbon Berlin Trio, etc. He has recorded with artists like Adam Lane, Igal Foni, Joe Giardullo, Harvey Sorgen, Benjamin Duboc, Sei Miguel, Christian Lillinger, Robert Landfermann, Jean-Luc Guionnet, Marco-Von Orelly, Fred Lonberg-holm, Elliot Levin, Ernesto Rodrigues, and played with many others like Phill Niblock, Alfred Hart, Daniel Levin, Daniel Carter, Dennis Gonzalez, Elliot Levin, Reuben Radding, Jeb Bishop, Josh Abrams, Samuel Blaser, Boris Hauf, Evan Parker, Hernâni Faustino, Gabriel Ferrandini, Rodrigo Pinheiro, among many others

Press:
"In a happy conjunction between Lisbon and Dallas (Texas), ever since 2008 this Luso-American quartet has been making an intense, dry and radical music which owes as much to free jazz as it does to punk rock. Soon catapulted to and applauded in the international circuit, LLHQ excel by their degree of collective improvisation built around themes/riffs in healthy proportions, giving birth to a very physical and warm music." – Rui Neves Jazz / Agosto Fest, Lisbon, Portugal 2011
—
About "Live in Madison", Ayler Records 2013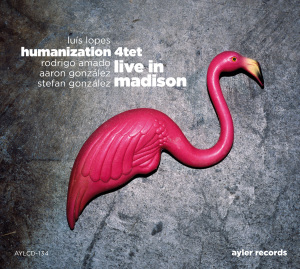 "the band plays with the intensity and energy that you might expect from their funk and free jazz roots, but they also play with an extraordinary level of control. While the band moves seamlessly from assertive grooves to free, someone is always grounding the performance […] It's that level of continuous focus that distinguishes the band from some likely parallels such as Last Exit and The Thing"  Stuart Broomer / Point of Departure
"there's no looking back as the band seemingly loaded up on energy drinks for this high-impact set. Lopes' variable use of distortion techniques—among other factors—provide a razor-sharp and stinging soundstage, coupled with Amado's rip-roaring solos. They use space as an equalizer amid snaking time changes and vibrant pulses laid out by the rhythm section. Hence, this performance must have given the audience an adrenalin rush"  Glenn Astarita / All About Jazz New York
"Humanization 4tet thrives in the live setting and one can feel the connection that they build with their assembled crowd. For anyone interested in hearing cutting edge music, check out this album, the latest accomplishment by this remarkable quartet"  Cisco bradley / 21st Century Improvised Music On The New York Scene
"A l'écoute de l'album studio Electricity, sorti il y a deux ans à peine sur le label Ayler Records, tout portait à croire que chez l'Humanization 4tet, groupe du guitariste lusitanien Luís Lopes, l'urgence mâtinée de tension pouvait libérer toute son énergie sur scène. La pochette de ce Live In Madison ne laisse guère de doutes : l'attitude survoltée du public, comme hypnotisé par une décharge de tension, en dit plus long que n'importe quel commentaire"  Frampi Barriaux / Citizen Jazz
"Crudeness and callousness pump up the excitement level along with the volume; and while none of the six tracks can be said to swing, they certainly gallop fiercely. Fully fitting the moment, although writing duties are divided and the majority of tunes come from the guitarist compositions by Amada and Aaron González are hewn from the same rock …or Rock"   Ken Waxman / Jazz Word
"do funck-rock maníaco de "Bush Baby" à fúria corrosiva de "Dehumanization blues", o fogo de barragem é implacável e não deixa ao ouvinte outra saída senão a rendição incondicional"  José Carlos Fernandes / Time Out Lisboa
"Intensidad, crudeza, una toma de sonido fantástica y un groove arrollador son las principales virtudes de este magnífico disco"  Caytano Lopez Rueda / Dark was the Night Blog
"This Quartet once played here at DMG a few years ago and were amazing. This disc does capture them on a particular inspired evening. Strong medicine for troubled times"  Bruce Lee / Downtown Music Gallery, New York
"Live in Madison" is a great companion piece to the Humanization 4tet's slim but solid discography"  Paul Acquaro / Free Jazz Blog
"The live dates as usual brings out more from an already improvisational group of musicians. But this time you can really feel the urgency in the music. In addition the attention to direct and fun in which the musicians would exude throughout the night"  Stephan Moore / Jazz Wrap – A Jazz Music Blog
"the album sees the band roar through free jazz, rock, funk and hard blues – tearing it up, totally in charge of their instruments […] This album is a must-have for fans of experimental jazz and draws influence from low-down and dirty rock and funk"  Lloyd Gedye / Mail&Guardian, Africa's best Read
"Wow! This record by electric guitarist Luís Lopez is a scorcher! […] Recommended."  François Couture / Monsieur Delire Blog
Tom Hull Music Week / Jazz Prospecting: A-
"This is all about the four together in smoking space-mode. But it is also about the very together advanced playing of each individually. All of them are at the top as with what His going on in advanced jazz with a rock edge. In tandem they are unbeatable players. In any way you care to look at this one, it's a big winner. It has the torque of rock, the unpredictability of outness and some really Great improvisations and compositional launching points. Get this!"   Grego Applegate Eduards / Gapplegate Guitar and Bass Blog
"Live In Madison verenigt dan ook spieren met knappe composities van vier persoonlijkheden die dit moeiteloos boven het gemiddelde actiewerk tillen. Aanrader voor wie z'n (free)jazz graag recht voor de raap en met een rauwe rockkracht heeft"  Guy Peters / Enola Zoekt U
"a música liberta-se dos confinamentos a que um registo de estúdio acaba por obrigar, há mais improvisação e prevalece um claro espírito de "jam". A secção rítmica dos González cresce em poder, o sax tenor de Amado está possesso, representando o melhor da "fire music" desde que Archie Shepp fez a ponte entre o hard bop e o free jazz carregando nos factores "funky", e a guitarra de Lopes assume por completo a sua condição thrash / garage / punk. Para ouvir com o volume para cima e aos saltos"   Rui Eduardo Paes / Jazz.pt
"On trouve ici une simplicité qui ne serait pas la conséquence d'un vocabulaire pauvre mais la volonté de privilégier l'énergie en lançant un arc de tension au-dessus des plages présentées. Il serait réducteur de ne faire de ce groupe qu'une seule boule de feu. L'équilibre trouvé entre le ténor très growlé, grave, granuleux, torrentiel et la guitare, au son métallique, sec et au discours certes bruitiste mais très clair trouvent une parfaite complémentarité"  Nicolas / JAZZITUDE 
"mixing head-banging beats with free-form thinking. Lopes parries Amado's granular screeching with angular comping, hocketing accents and noise-themed solos, methodically sequenced and insistently delivered over the González brothers' mosh-pit pulsing"  Tom Greenland / The New York City Jazz
"Bien que cet esprit survolté peut parfois suffire à décrire un ensemble, il serait très réducteur de limiter le Humanization Quartet à cela. Ce qu'il faut retenir, c'est que l'énergie dicte tout. Comme souvent dans les musiques free, l'harmonie peut être laissée de côté au profit du rythme et des variations d'énergie. Comme souvent dans les musiques free, ça peut être plus ou moins bien fait, mais ici, c'est plus que réussi"  Benoit Larrieu / Djam, Le jazz en papier recycle
—
About 'Electricity" (second album) Ayler records 2011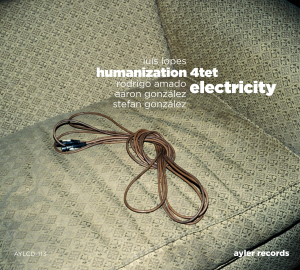 "The Humanization 4Tet is/are a particularly impressive quartet that are no doubt be a force to be reckoned with"   Bruce Lee / Downtown Music Gallery
Tom Hull: "very solid A"
"Electricity, fatica numero due del quartetto pubblicata dalla Ayler Records, conferma la caratura della band e, per la proprietà transitiva, l'eccellente stato di salute della new wave jazzistica portoghese […] Attenzione a non scottarvi le orecchie"  Luca Canini / All About Jazz Italy
"The Humanization 4tet present unruly but accessible inside-outside jazz, very much worth further investigation"  Clifford Allen
"One of the most sheerly joyful bands to emerge in recent memory, they are simply on fire here, It's terrific from start to finish, tight and well-paced, with invention, smarts, and heart in the right balence. The material ranges from textural free ballads to skronk fury to dirty, gnarly swing and outrageous funk raveups"  Jason Bivins / Signal to Noise
"Ce qui frappe dans ce quartet c'est l'unité d'inspiration dans la diversité des thématiques et des manières, la butée unanime à l'essentiel"  Noël Tachet / Improjazz
"Electricity is a fine recording, with some wild moments, but showing off the adventurous lyricism […] I would say that those Northern European darlings who've dominated the world of Jazz criticism for the better part of a decade now had better watch out. There is a new wind blowing out of the south"  Phillip McNally / Cadence Magazine
"estamos perante um quarteto que destila uma música orgânica e vibrante, feita da criteriosa aglutinação de múltiplos elementos e onde composição e improvisação se conjugam de forma particularmente eficaz"  António Branco / Jazz.pt
"Humanization 4tet est l'œuvre d'une formation moderne qui a su faire le lien entre diverses influences disparates et vigoureuses pour les mettre dans le pot commun d'une improvisation sans limite autre que le plaisir. L'auditeur aura le même sentiment de plaisir et de cohésion"  Frampi / SunShip blog
"There are some CDs that are so charged with life, so immediate, so vibrant, that the music literally jumps out of your speakers from the first note. That's what I am feeling with the album Electricity (Ayler 113) by the Humanization 4tet […] This is up there as a high point of the many new releases I've heard in the past year"  Grego Applegate Edwards / Gapplegate Guitar and Bass blog
The merging of styles is not a new thing, but the quality and the fun the musicians have with it transpires with every note and beat. But unlike many other endeavours, this one is very likeable for its straightforward approach and lack of pretence. It is art made human. Like a rock album, it should be listened to as a collection of songs rather than as a single unity. Nice stuff"  Stefan Gijsels / FreeJazz blog
"Electricity" figurera donc ici comme le CD de la révélation qu'il existe un axe Lisbone-Dallas (Texas) apte à produire une musique intense, tonitruante, sèche, radicale, un blues free ne concédant rien aux beautés de ses cousins free-style de Chicago ou de New York dont la proximité dans la longueur d'onde jaillit immédiatement aux oreilles"  Sudouest blog
"A escuta de Electricity ocupar-lhe-á cerca de uma hora, mas depois fica com carga para uma semana de actividade"  José Carlos Fernandes / Time Out Lisboa
"Fans of 21st Century out playing will find a lot to like on this record"  Phil Freeman / Burning Ambulance
—
About "Humanization 4tet" (debut Album), Clean Feed 2008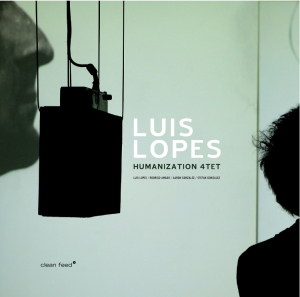 "an arresting interesting debut"  Stuart Broomer / Signal to Noise
"Si presenta così l'Umanization 4tet, senza clamori, senza effetti pirotecnici, ma con un suono ben definito, un approccio compositivo originale, un fare un poco ruspante, le idee chiarissime, da formazione navigata […] Gruppo da seguire con grande attenzione"  Vincenzo Roggero / All About Jazz Italy
"it's ambitious for a leader debut to be a program of entirely original tunes, even in a seemingly post-everything milieu such as we have today, but the guitarist's written lines acquit themselves well […] this is an intriguing and meaty debut"  Clifford Allen / Bagatellen
"It's a fine record and a nice introduction to a quirky, winning guitarist"  Jason Bivins / Cadence Magazine
"The compositions are nice; with great themes and especially nice improvisations […] this is a great and stylistically balanced CD"  Stef Gijsels / Free Jazz Review
"muscular and inventive"  Greg Taylor / Amazon
"Até 31 de Dezembro ainda pode acontecer muita coisa, mas nada impedirá a estreia do Humanization 4tet de ser um dos discos do ano, no que ao jazz português diz respeito […] Da confluência destas quatro mentes nasceu uma música tensa. Angustiada e de cores sombrias, que evoca, nos trechos de groove regular, o mundo sonoro dessa obra-prima negligenciada que é pariah's Pariah, de Gary Thomas"  José Carlos Fernandes / Time Out Lisboa
"Humanization 4tet is the kind of record that rewards repeated listenings — like a good book or a fine painting, you can always find something there that escaped your notice before. And if that ain't hip, I don't know what is"  Ken Shimamoto / The Stash Dauber
"Luis Lopes debuta con un disco muy interesante y lo hace de la mano de un grupo que le hace quitarse a uno el sombrero […] muy a tener en cuenta […] seis excelentes composiciones que se revelan como la finalidad última de este disco"  Yahvé M. de la Cavada / Tomajzz

music:
from "live in Madison"
from "Electricity"
from "Humanization 4tet"

videos: