HUMANIZATION 4TET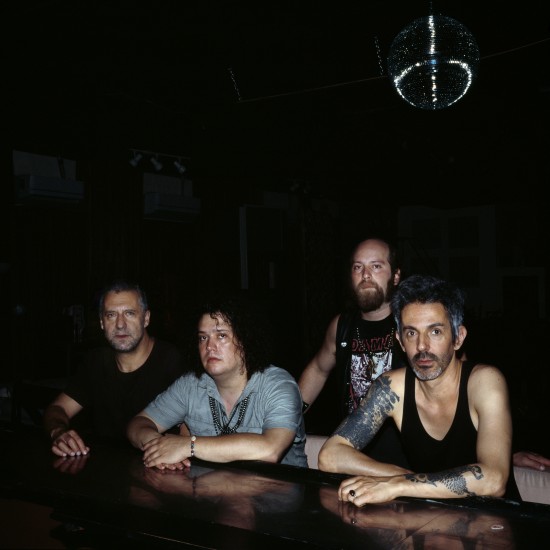 photo by António Júlio Duarte
Luis Lopes – electric guitar
Rodrigo Amado – tenor sax
Aaron Gonzalez – doublebass
Stefan Gonzalez – drums
New CD (check it out music on the bottom):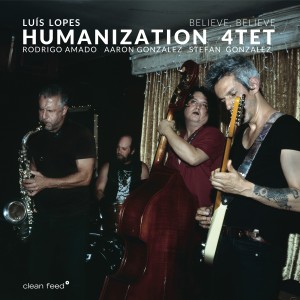 _
Humanization 4tet is a band formed by the Portuguese Luís Lopes and Rodrigo Amado with the Texan brothers Aaron and Stefan Gonzalez. Rooted in jazz, the band practices in a dynamic way a music that can run from the simplest melody to the most avant-garde noise, or from the most organic improvisation towards more targeted composition, never losing sight of its primary objective of conceptual construction and implementation of an identity. This is reflected since their first "Humanization 4tet" debut album, edited by the Portuguese label Clean Feed, named best album of 2008 by Portuguese magazine Jazz.pt. Plus, the add of more two records: "Live in Madison" and "Electricity", both edited by the French label Ayler Records, all internationally acclaimed. The band presented recently a new album, "Believe Believe" (resulting from their latest tour in U.S. and recorded in New Orleans). In their history of concerts they have been playing: In Europe: at Jazz em Agosto Fest – Gulbenkian Foundation Lisbon, Seixal Jazz Fest Lisbon, Ausland Berlin, Saarbrucken Free Jazz Fest, Videoex Festival/Zurigh, Ruimte/Amsterdam, The Singer/Rijkvorsel, Speicher/Leer, Stillverk/Trondheim, Blow Out at Haerverk/Oslo, Brotz/Gotemburg, Pardon To Tu/Warsaw, Alchimia/Krakow, Klub Dragon/Poznan, Artacts Festival St Johann Tirol, Passos Manuel Porto, Jazz ao Centro Fest/Coimbra, TBA-Teatro Bairro Alto Lisbon, Além Tejo Fest Santo André, Festa do Jazz Português – São Luiz Lisbon, ZDB Gallery Lisbon, CCB-Centro Cultural de Belém Lisbon, Hot Club Portugal, among many other venues and concert halls. In the U.S. they have made three tours on the road, playing in places such as: Sandaga Marquet, Phoenix Project, RCB Mixtape Sessions (Dallas); Firehouse Gallery, Lola´s (Forth Worth); The Salvage Vanguard Theatre, Trailer Space Records, Me Mer Mo Series (Austin); Avant Garden, Project Row Houses, Spruce Goose (Houston), Mustard Zone (Denton); Desert Flower (Big Spring); Minicine (Shreveport); Spinster Records (Tulsa); Blue Nile, Chickie Wahwah, Zeitgeist, Snug Harbor, Side Bar, Always Lounge (New Orleans); Bobo Galery, (Asheville); Eyedrum Galery (Atlanta); Bossa (Washington); Fiume, Leroy's Lounge, Osvaldo Romberg Studio, Wherehouse (Philadelphia), Union Pool Brooklyn, Downtown Music Galery, The Stone (New York), Hideout (Chicago), Audio For the Arts (Madison). The photographer António Júlio Duarte, as been present in all the Humanization 4tet tours, documenting and creating a unique pictorial universe that results in exhibitions and book editions.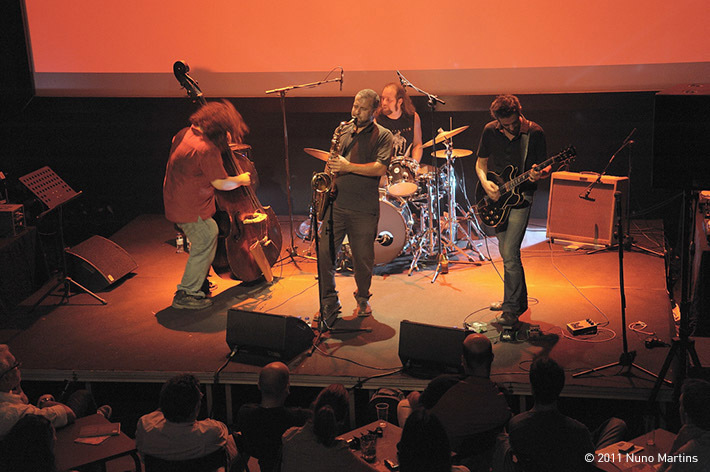 Rodrigo Amado - Nominated, for the fifth consecutive year, by the El Intruso International Critics Poll (more than 50 critics, from 18 countries) as one of the top 5 tenor saxophonists in activity, alongside the likes of Evan Parker, Joe Lovano, Ken Vandermark, Jon Irabagon, Ivo Perelman, Chris Potter and Ingrid Laubrock, Rodrigo Amado released last year "A History of Nothing" (Trost Records), the second album from the quartet he keeps with three of the most important figures of today's creative jazz scene – Joe McPhee, Kent Kessler and Chris Corsano. With two new releases for 2019 – "No Place To Fall", a duo recording with Chris Corsano, and "Summer Bummer", the second album with Gonçalo Almeida and Onno Govaert – Amado prepares to tour extensively with his American quartet in Europe.
With this formation or fronting his celebrated Motion Trio, with cellist Miguel Mira and drummer Gabriel Ferrandini, Amado has been performing in innumerable Festivals and venues all over the world, namely Snug Harbor in New Orleans, Hideout in Chicago, The Stone in New York, Bimhuis in Amsterdam, DOM in Moscow, Jazz House in Copenhagen, Cafe Oto in London, Pardon To Tu in Warsaw, De Singer in Antwerp, Manufaktur in Stuttgart or the State Philharmony Hall in Oradea. His music has been object of hundreds of reviews in magazines, newspapers and blogs all over the world, and his work critically acclaimed in leading publications like The Wire magazine, El País and Folha de São Paulo newspapers, or the Bandcamp Daily online.
With a discography of 21 albums under his own name and participation in more than 30 others, he is unanimously considered one of the key players in European Jazz. As North-American critic Stuart Broomer writes in his liner notes for "This Is Our Language", "Amado is an emerging master of a great tradition, more apparent with each new recording or performance." And he goes on, about Amado's sound: "There's a rhythmic impetus, a bite in his sound, part grain, part beat, and it drives his lines forward, a sound and an impulse that are part him and part history, a fundamental impress on the world that tenor saxophonists like Coleman Hawkins, Eddie "Lockjaw" Davis, Sonny Rollins, and Archie Shepp have been making for generations."
—
Aaron Gonzalez was born in 1980, in Dallas, TX, the son of avant-jazz trumpeter, visual artist and educator Dennis Gonzalez. At the age of 10, he began studying double bass in the classical tradition, joining his elementary school's orchestra. He subsequently attended the local arts middle and high schools, attaining the highest levels in his section in their respective orchestras. His attendance at the Arts Magnet high school in Dallas also afforded him the chance to study music theory, sound engineering and recording, composition, and electronic music, and also perform solo and in chamber ensembles. During this time, he also studied privately with Young Strings, a program which offered music lessons from members of the Dallas Symphony Orchestra to gifted young musicians in the Dallas area. In middle and high school he also took up bass guitar, taught to him by his orchestra teacher, who wanted the orchestra to perform some rock numbers. This led to him joining local indie rock bands and beginning to gig on the Dallas rock circuit. He also moonlighted as a substitute bass and guitarrón player for his father's high school mariachi group; the latter instrument being hastily taught to him just before gigs. He subsequently joined his father's accordion-driven Tejano group Trio Brujos. In his last year of high school, he formed two bands with family members that have lasted into the entirety of his adult life: Akkolyte, an extreme, raw, and increasingly experimental grindcore duo with his brother Stefan that had begun life as a series of solo recording experiments by the younger Gonzalez; and Yells At Eels, an eclectic and energetic free jazz trio (often augmented by other players) led by father Dennis and also with Stefan on drums. Akkolyte released a series of EPs and split releases with other heavy d.i.y. punk artists through the years, eventually releasing their sole full-length LP Clues In The Chaospile in 2010. Yells At Eels has released numerous CDs over the last 20 years, including releases on Ayler Records, and Dennis's own imprint, daagnim. Yells At Eels has collaborated with (and spawned offshoot groups with) a number of notable jazz players, including Tim Green, Louis Moholo-Moholo, Alvin Fielder, Famoudou Don Moye, Wojtek Mazolewski, Ingebrigt Håker-'Flaten, and Rodrigo Amado. The latter association led to the formation of the half Texan/half Portuguese group Humanization 4tet. Featuring Amado on sax, the rhythm section of both Gonzalez brothers, and led by guitarist Luis Lopes. With his brother Stefan were in Unconscious Collective, a group that combined a heavy/stripped down approach to progressive and psychedelic rock with aspects of jazz improvisation, and a theatrical, ritualistic and physically immersive stage show. They have two double LPs out on Tofu Carnage Records, the latter of which, Pleistocene Moon, was particularly critically acclaimed. All three Gonzalez's have recorded with popular indie artist Ariel Pink; Dennis and Aaron on his album under the name Shits And Giggles, and Dennis, Aaron, and Stefan on the Ariel Pink With Added Pizzazz EP. Aaron has also been associated with Dadaist avant music collective MFM, extreme noise act Aphonic Curtains, and psychedelic industrial band Festive Death. In recent years, he has also developed his experimental vocal performance skills, performing solo under the name Deflowered Electric Flesh Bride, leading the large scale electo-acoustic improv ensemble Age Of Disinformation, and performing as one of many voices in the queer/feminist performance collective Asukubus. He has recently been in various productions by Dallas based alternative theater company The Ochre House; performing in the live music ensembles that accompany their productions. As an educator, he has been an instructor for La Rondalla, a community-based after school program offering free music lessons to children in the Dallas area. He continues to also perform extensively as a free improviser, using both bass and voice, performing with a number of local and international musicians
Stefan Gonzalez is a drummer, percussionist, and vocalist from Dallas, TX.  He is most known for his work with his family bands Yells at Eels( with brother Aaron Gonzalez and father Dennis Gonzalez) and Akkolyte(again with his brother) but also performs regularly in Europe with Ingebrigt Haker Flaten's super group The Young Mothers featuring Texas based musicians Jonathan Horne, Jawwaad Taylor, Jason Jackson and Amsterdam based drummer Frank Rosaly.  He currently performs solo under the moniker Orgullo Primitivo and also plays with the Dallas industrial noise trio Mother II.  Gonzalez aims to constantly push musical boundaries and blur the lines of genre through dabbling in many extreme genres and sub genres of music ranging from hardcore punk, industrial, black metal, and grindcore to improvisational music, jazz, and ambient music.  He frequently performs at the Ochre House Theater in Dallas, often providing live soundtrack for plays and musicals.  Past groups, collaborators, and recording projects include Unconscious Collective, Asukubus, Jandek, Mike Watt, Luis Lopes Humanization 4tet, Curtis Clark Trio, Ariel Pink With Added Pizzazz, Renegade Spirits Ensemble featuring Famoudou Don Moye, Aram Shelton, Damon Smith, Tom Carter, Louis Moholo-Moholo, German Bringas, Remi Alvarez, Arturo Baez, Cojoba and many more.
—
Luis Lopes – First started out as a Blues and Rock guitarist, then ventured into Jazz and Free Improvisation.  He leads several groups that soon positioned him in the international scene: Humanization 4tet (with Portuguese sax player Rodrigo Amado and Texans Stefan and Aaron Gonzalez), Lisbon Berlin Trio (with Germans Christian Lillinger and Robert Landfermann), Guillotine (with french cellist Valentin Ceccaldi and drummer Andreas Wildhagen from Norway). He integrates collectives such as the Lisbon 9 elements ensemble LFU – Lisbon Freedom Unit, The Trio Garden(with Bruno Parrinha and Ricardo Jacinto), and also BBBB-Big Bold Back Bone a swiss-portugese electro-acoustic quartet. Then, he has his solo works, characterized by a full experimental attitude and can range from Noise to Pianissimo. Plus, he cherishes and privileges duo projects, examples are collaborations with Jean-Luc Guionnet, Fred Lonberg-holm, Noel Akchoté and Julien Desprez. He has released records on labels such as Clean Feed, Shhpuma Records, Wide Ears, Creative Sources, Ayler Records, JACC, and his own LPZ Records. This records were acclaimed in international press like Wire (Inglaterra), Citizen Jazz, Jazz Magazine and improjazz (France), Enola Magazine (Belgium), Downbeat, All About Jazz NY, Cadence Magazine, NY City Jazz Records, Signal to Noise, Point of Departure (U.S.), Toma Jazz (Spain), All about jazz Italy (Italy), Jazz'n'more/blues roots (Germany), FreeForm FreeJazz (Brazil). Lopes has been a regular presence in stages such as Jazz em Agosto (Gulbenkian), Jazz ao Centro Coimbra, Portalegre Jazz Fest, Seixal Jazz, Sines em Jazz, Serralves em Festa, Festival Rescaldo Culturgest, Ljubljana Jazz Fest, Konfrontationen Fest Nickelsdorf Austria, Tricollectif Soiré Tricot Fest Paris, Jazz or Jazz Fest Orlean, Clean Feed New York Fest, Clean Feed Chicago Fest, Clean Feed Colónia Fest, Clean Feed Berlin Fest, Snug Harbor New Orleans, The Stone New York, HideOut Chicago, Ausland Berlin, Exploratorium Berlin, Occi Amesterdão, Klappfon Fest Basel, Win Zurich, Hærverk Oslo, Brötz Göteborg, Entrepreneurs Museum Moscovo, Suoni Per Il Popolo Fest Montreal, among many others.

Press:
"In a happy conjunction between Lisbon and Dallas (Texas), ever since 2008 this Luso-American quartet has been making an intense, dry and radical music which owes as much to free jazz as it does to punk rock. Soon catapulted to and applauded in the international circuit, LLHQ excel by their degree of collective improvisation built around themes/riffs in healthy proportions, giving birth to a very physical and warm music." – Rui Neves Jazz / Agosto Fest, Lisbon, Portugal 2011
—
About "Believe Believe", Clean Feed Records 2020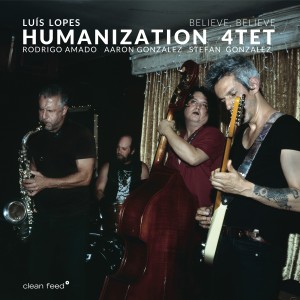 "capté en Louisiane en 2018, est la nouvelle manifestation du Luís Lopes Humanization Quartet, qui marie l'énergie du rock coriace aux héritages du jazz et free jazz. Sonorité colossale, sûreté des énoncés, Rodrigo Amado (ts) est une locomotive, et sa complicité avec l'intrépide Lopes (elg) garantit le coup de tabac. Aaron et Stefan Gonzalez (b, dm), non contents d'exceller à leur poste, apportent des compos astucieuses. Petite durée, impact décuplé" David Cristol / Jazz Magazine   [JAZZ CHOC!] France
"The music is a constant tug-of-war between punk metal and cool jazz. The electricity of improvised rock is countered by post-bop swing that reads as confusion, but is far from it" Mark Corroto / All About Jazz New York
"Taking jazz and boosting it with the concentrated energy of punk and metal, they come out with a challenging and exciting piece of work […] This group is very tight and focused no matter how far out they go […] This was an excellent record with the band perfectly melding modern and free jazz with just the right amount of thematic material. They play brilliantly as a group, and just as well as soloists, making for a consistently interesting and exciting álbum" Tim Niland / jazz & Blues US
"Believe, Believe is not restricted anywhere, but at the same time maintains a close focus […] Believe, Believe is a powerful statement: infused with the sweaty vibe of Live In Madison, but traced to a tight 35 minutes that groove, seduce, and slap you with a few punches that knock you back. Structure and freedom in a masterful balance, performed by a Portuguese-American alliance that tests the first element to the maximum and performs the second with a keen focus. In short, this is the shit you want to see live" Guy Peters / enola magazine Belgium
"[…] de fato, o quarteto soa como um grupo muito coeso e uno, com a participação ativa de todos seus integrantes […]  "Believe, Believe" traz seis temas em que a estética do quarteto se revela em plena maturidade. Aqui não se trata de free impro. O Humanization 4tet parte de um campo free jazzístico ao qual adiciona elementos de outras vias expressivas a que também são ligados seus integrantes" ****(*) Fabricio Vieira / FreeForm FreeJazz Brazil
"A four gentlemen meeting who obviously know each other well and at the same time are confident of each other after so many years, they challenge both each other and us, so it lasts […] The music is both free and structured, dynamic and exceptionally uncompromising – here nothing is spared. There is music here that is sure to speak to both a jazz audience, but also to rock people with open senses." Tor Hammero Norway
"Just what are the group's virtues? Prime amongst them is the contrast between the crisp but simple themes and the exuberant free jazz which they engender. Even though Lopes' name takes top billing, he doesn't hog the limelight. Consequently the outfit convinces as a true band, something affirmed by the spread of writing credits among the foursome" John Sharp / All About Jazz New York
"Tenor saxist Rodrigo Amado grabs you from the very beginning of this set. His sound is big, he barrels ahead with great energy, his mainstream-outside lines suggest funky bop as well as it does post-Ayler, post-Trane […]Lopes is utterly rhythmically and harmonically free, now and then atonal. Guitar tones, chords sparkle out of nowhere, or he underlines, decorates, or mocks. His volume is down low, to emphasize the contrast. His brief solo passages are dotted with distorted-sound accents, which lend dramatic intrigue […]. The ballad "She" is quiet enough to showcase Aaron. He's unamplified, he loves the true sound of the bass, but probably like most bassists between such strong drums and tenor, he doesn't project well. His lines are active and lyrical and his senses of free rhythmic movement and tonality match Lopes' instincts […], from beginning to end the album is filled with the percussion of Stephan, who suggests the dynamism and freedom of his former percussion associate Alvin Fielder. It's a thick, rich layer of sound that propels the others while remaining responsive, as in passing duets with Amado. The opening piece "Eddie Harris/Tranquilidad Alborotadora" is longest and shows Stephan, Amado, and Lopes at their best, with lyrical passages by Amado and quiet guitar fireworks" John Litweiler / Point of Departure Canada
"O quarto disco do Humanization 4Tet é mais um passo largo na carreira musical de Luís Lopes e do quarteto criado em 2008 […] Há duas grandes diferenças que fazem diferença nesta nova gravação. Uma: as músicas soam a hard bop mundano e tosco que rapidamente se sujam através das improvisações. Podem ser partes de um tema clássico ou uma frase de um dos músicos que colocam a máquina em movimento" Gonçalo Falcão / Jazz.pt magazine Portugal
_
About "Live in Madison", Ayler Records 2013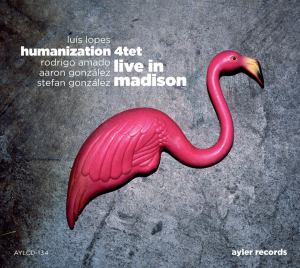 "the band plays with the intensity and energy that you might expect from their funk and free jazz roots, but they also play with an extraordinary level of control. While the band moves seamlessly from assertive grooves to free, someone is always grounding the performance […] It's that level of continuous focus that distinguishes the band from some likely parallels such as Last Exit and The Thing"  Stuart Broomer / Point of Departure
"there's no looking back as the band seemingly loaded up on energy drinks for this high-impact set. Lopes' variable use of distortion techniques—among other factors—provide a razor-sharp and stinging soundstage, coupled with Amado's rip-roaring solos. They use space as an equalizer amid snaking time changes and vibrant pulses laid out by the rhythm section. Hence, this performance must have given the audience an adrenalin rush"  Glenn Astarita / All About Jazz New York
"Humanization 4tet thrives in the live setting and one can feel the connection that they build with their assembled crowd. For anyone interested in hearing cutting edge music, check out this album, the latest accomplishment by this remarkable quartet"  Cisco bradley / 21st Century Improvised Music On The New York Scene
"A l'écoute de l'album studio Electricity, sorti il y a deux ans à peine sur le label Ayler Records, tout portait à croire que chez l'Humanization 4tet, groupe du guitariste lusitanien Luís Lopes, l'urgence mâtinée de tension pouvait libérer toute son énergie sur scène. La pochette de ce Live In Madison ne laisse guère de doutes : l'attitude survoltée du public, comme hypnotisé par une décharge de tension, en dit plus long que n'importe quel commentaire"  Frampi Barriaux / Citizen Jazz
"Crudeness and callousness pump up the excitement level along with the volume; and while none of the six tracks can be said to swing, they certainly gallop fiercely. Fully fitting the moment, although writing duties are divided and the majority of tunes come from the guitarist compositions by Amada and Aaron González are hewn from the same rock …or Rock"   Ken Waxman / Jazz Word
"do funck-rock maníaco de "Bush Baby" à fúria corrosiva de "Dehumanization blues", o fogo de barragem é implacável e não deixa ao ouvinte outra saída senão a rendição incondicional"  José Carlos Fernandes / Time Out Lisboa
"Intensidad, crudeza, una toma de sonido fantástica y un groove arrollador son las principales virtudes de este magnífico disco"  Caytano Lopez Rueda / Dark was the Night Blog
"This Quartet once played here at DMG a few years ago and were amazing. This disc does capture them on a particular inspired evening. Strong medicine for troubled times"  Bruce Lee / Downtown Music Gallery, New York
"Live in Madison" is a great companion piece to the Humanization 4tet's slim but solid discography"  Paul Acquaro / Free Jazz Blog
"The live dates as usual brings out more from an already improvisational group of musicians. But this time you can really feel the urgency in the music. In addition the attention to direct and fun in which the musicians would exude throughout the night"  Stephan Moore / Jazz Wrap – A Jazz Music Blog
"the album sees the band roar through free jazz, rock, funk and hard blues – tearing it up, totally in charge of their instruments […] This album is a must-have for fans of experimental jazz and draws influence from low-down and dirty rock and funk"  Lloyd Gedye / Mail&Guardian, Africa's best Read
"Wow! This record by electric guitarist Luís Lopez is a scorcher! […] Recommended."  François Couture / Monsieur Delire Blog
Tom Hull Music Week / Jazz Prospecting: A-
"This is all about the four together in smoking space-mode. But it is also about the very together advanced playing of each individually. All of them are at the top as with what His going on in advanced jazz with a rock edge. In tandem they are unbeatable players. In any way you care to look at this one, it's a big winner. It has the torque of rock, the unpredictability of outness and some really Great improvisations and compositional launching points. Get this!"   Grego Applegate Eduards / Gapplegate Guitar and Bass Blog
"Live In Madison verenigt dan ook spieren met knappe composities van vier persoonlijkheden die dit moeiteloos boven het gemiddelde actiewerk tillen. Aanrader voor wie z'n (free)jazz graag recht voor de raap en met een rauwe rockkracht heeft"  Guy Peters / Enola Zoekt U
"a música liberta-se dos confinamentos a que um registo de estúdio acaba por obrigar, há mais improvisação e prevalece um claro espírito de "jam". A secção rítmica dos González cresce em poder, o sax tenor de Amado está possesso, representando o melhor da "fire music" desde que Archie Shepp fez a ponte entre o hard bop e o free jazz carregando nos factores "funky", e a guitarra de Lopes assume por completo a sua condição thrash / garage / punk. Para ouvir com o volume para cima e aos saltos"   Rui Eduardo Paes / Jazz.pt
"On trouve ici une simplicité qui ne serait pas la conséquence d'un vocabulaire pauvre mais la volonté de privilégier l'énergie en lançant un arc de tension au-dessus des plages présentées. Il serait réducteur de ne faire de ce groupe qu'une seule boule de feu. L'équilibre trouvé entre le ténor très growlé, grave, granuleux, torrentiel et la guitare, au son métallique, sec et au discours certes bruitiste mais très clair trouvent une parfaite complémentarité"  Nicolas / JAZZITUDE 
"mixing head-banging beats with free-form thinking. Lopes parries Amado's granular screeching with angular comping, hocketing accents and noise-themed solos, methodically sequenced and insistently delivered over the González brothers' mosh-pit pulsing"  Tom Greenland / The New York City Jazz
"Bien que cet esprit survolté peut parfois suffire à décrire un ensemble, il serait très réducteur de limiter le Humanization Quartet à cela. Ce qu'il faut retenir, c'est que l'énergie dicte tout. Comme souvent dans les musiques free, l'harmonie peut être laissée de côté au profit du rythme et des variations d'énergie. Comme souvent dans les musiques free, ça peut être plus ou moins bien fait, mais ici, c'est plus que réussi"  Benoit Larrieu / Djam, Le jazz en papier recycle
—
About 'Electricity" (second album) Ayler records 2011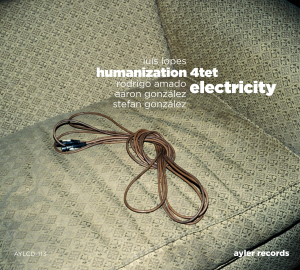 "The Humanization 4Tet is/are a particularly impressive quartet that are no doubt be a force to be reckoned with"   Bruce Lee / Downtown Music Gallery
Tom Hull: "very solid A"
"Electricity, fatica numero due del quartetto pubblicata dalla Ayler Records, conferma la caratura della band e, per la proprietà transitiva, l'eccellente stato di salute della new wave jazzistica portoghese […] Attenzione a non scottarvi le orecchie"  Luca Canini / All About Jazz Italy
"The Humanization 4tet present unruly but accessible inside-outside jazz, very much worth further investigation"  Clifford Allen
"One of the most sheerly joyful bands to emerge in recent memory, they are simply on fire here, It's terrific from start to finish, tight and well-paced, with invention, smarts, and heart in the right balence. The material ranges from textural free ballads to skronk fury to dirty, gnarly swing and outrageous funk raveups"  Jason Bivins / Signal to Noise
"Ce qui frappe dans ce quartet c'est l'unité d'inspiration dans la diversité des thématiques et des manières, la butée unanime à l'essentiel"  Noël Tachet / Improjazz
"Electricity is a fine recording, with some wild moments, but showing off the adventurous lyricism […] I would say that those Northern European darlings who've dominated the world of Jazz criticism for the better part of a decade now had better watch out. There is a new wind blowing out of the south"  Phillip McNally / Cadence Magazine
"estamos perante um quarteto que destila uma música orgânica e vibrante, feita da criteriosa aglutinação de múltiplos elementos e onde composição e improvisação se conjugam de forma particularmente eficaz"  António Branco / Jazz.pt
"Humanization 4tet est l'œuvre d'une formation moderne qui a su faire le lien entre diverses influences disparates et vigoureuses pour les mettre dans le pot commun d'une improvisation sans limite autre que le plaisir. L'auditeur aura le même sentiment de plaisir et de cohésion"  Frampi / SunShip blog
"There are some CDs that are so charged with life, so immediate, so vibrant, that the music literally jumps out of your speakers from the first note. That's what I am feeling with the album Electricity (Ayler 113) by the Humanization 4tet […] This is up there as a high point of the many new releases I've heard in the past year"  Grego Applegate Edwards / Gapplegate Guitar and Bass blog
The merging of styles is not a new thing, but the quality and the fun the musicians have with it transpires with every note and beat. But unlike many other endeavours, this one is very likeable for its straightforward approach and lack of pretence. It is art made human. Like a rock album, it should be listened to as a collection of songs rather than as a single unity. Nice stuff"  Stefan Gijsels / FreeJazz blog
"Electricity" figurera donc ici comme le CD de la révélation qu'il existe un axe Lisbone-Dallas (Texas) apte à produire une musique intense, tonitruante, sèche, radicale, un blues free ne concédant rien aux beautés de ses cousins free-style de Chicago ou de New York dont la proximité dans la longueur d'onde jaillit immédiatement aux oreilles"  Sudouest blog
"A escuta de Electricity ocupar-lhe-á cerca de uma hora, mas depois fica com carga para uma semana de actividade"  José Carlos Fernandes / Time Out Lisboa
"Fans of 21st Century out playing will find a lot to like on this record"  Phil Freeman / Burning Ambulance
—
About "Humanization 4tet" (debut Album), Clean Feed 2008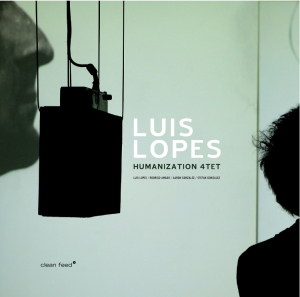 "an arresting interesting debut"  Stuart Broomer / Signal to Noise
"Si presenta così l'Umanization 4tet, senza clamori, senza effetti pirotecnici, ma con un suono ben definito, un approccio compositivo originale, un fare un poco ruspante, le idee chiarissime, da formazione navigata […] Gruppo da seguire con grande attenzione"  Vincenzo Roggero / All About Jazz Italy
"it's ambitious for a leader debut to be a program of entirely original tunes, even in a seemingly post-everything milieu such as we have today, but the guitarist's written lines acquit themselves well […] this is an intriguing and meaty debut"  Clifford Allen / Bagatellen
"It's a fine record and a nice introduction to a quirky, winning guitarist"  Jason Bivins / Cadence Magazine
"The compositions are nice; with great themes and especially nice improvisations […] this is a great and stylistically balanced CD"  Stef Gijsels / Free Jazz Review
"muscular and inventive"  Greg Taylor / Amazon
"Até 31 de Dezembro ainda pode acontecer muita coisa, mas nada impedirá a estreia do Humanization 4tet de ser um dos discos do ano, no que ao jazz português diz respeito […] Da confluência destas quatro mentes nasceu uma música tensa. Angustiada e de cores sombrias, que evoca, nos trechos de groove regular, o mundo sonoro dessa obra-prima negligenciada que é pariah's Pariah, de Gary Thomas"  José Carlos Fernandes / Time Out Lisboa
"Humanization 4tet is the kind of record that rewards repeated listenings — like a good book or a fine painting, you can always find something there that escaped your notice before. And if that ain't hip, I don't know what is"  Ken Shimamoto / The Stash Dauber
"Luis Lopes debuta con un disco muy interesante y lo hace de la mano de un grupo que le hace quitarse a uno el sombrero […] muy a tener en cuenta […] seis excelentes composiciones que se revelan como la finalidad última de este disco"  Yahvé M. de la Cavada / Tomajzz

music:
from "Believe, Believe"
from "live in Madison"
from "Electricity"
from "Humanization 4tet"

videos: