LOPES/LANE/FONI "What is When"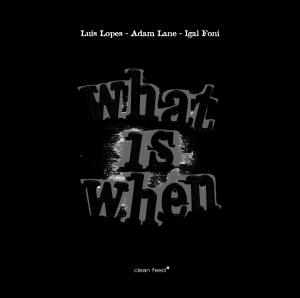 Clean Feed 146 cd
Personnel:
Luís Lopes – electric guitar
Adam Lane – doublebass
Igal Foni – drums
Cd track's:
 1. Evolution Motive (for Charle Darwin and Sonny Sharrock)
♫
2. Spontaneou Combustion 3. Cerejeiras
♫
4. Eufoni
5. The Siege
♫
6. Street Clown Girl
7. Melodic 8
♫
8. ChiChi Rides The Tiger
♫
9. Perched Upon An Electric Wire  
Release information:
1, 3, 5 by Luís Lopes 7, 8, 9 by Adam Lane Copyright 2005, SonicBlissMusic (BMI) 2, 4, 6 by Luís Lopes, Adam Lane, Igal Foni
1, 2, 4, 6 recorded 24th September 2007 by Jim Clouse on Park West Studios, Broklyn, New York. 3, 5, 7, 8, 9 recorded 1st July 2008 by Cisco Salgado e Miguel Guia on Som de Lisboa Studios, Lisbon, Portugal.  Mixed by Joaquim Monte at Namouche Studios, Lisbon, Portugal, March 2009. Mastered by Luis Delgado. Produced by Luís Lopes. Executive production by Trem Azul. Design by Travassos. Photography by Cristina Cortez.

Reviews:
"Portuguese guitarist Luis Lopes is joined by Israeli drummer Igal Foni and East Coast bassist Adam Lane on What Is When, another notch in the proliferating subgenre of guitar-based improvised power trios of late, along the lines of Scorch Trio or Adam Caine's group. The difference here being that Lopes is about as far as one can get from a pyrotechnical guitarist, hanging back with muted, gritty lines and fields of delicate introspection fleshed out by Lane's throaty pizzicato and a constant burble of activity from Foni's kit. Linear repetition, bluesy fragments and worrying isolation pepper Lopes' improvisation on "Spontaneous Combustion," though despite a sparse aesthetic worldview, by no means is this a 'quiet' trio. "The Siege" offers one of Lopes' flitting and quizzical singsong melodies, of the sort so brilliantly fleshed out with saxophonist Rodrigo Amado in the Humanization 4tet. Split off into areas of grungy and electronically-altered arco and punchy rhythms, the tune's melodic rejoinder is both unifying and perversely off-kilter"  Clifford Allen / All About Jazz New York
—
"What is When" is a rather exceptional guitar trio. Guitarist Luis Lopes is a new one for me and he is a player of great interest. He tends to play on the outside and alternates between a dryly electric and a high impact straight tone. Beefheartian guitarists, Sharrock in his early period and Ulmer in his outer moments are touch points in describing his style, but only as rough approximation, for he has a distinct bag. Adam Lane goes far in making this a formidable lineup. Arco or pizzicato, he makes a strong contribution with his all-over playing attack and keen sense of drama and momentum. The drummer is new to me but is very musical and capable of Free Swing-Rock inflected outness and open-timed assaults with definite taste. The pieces have good variety and nothing comes near to outwearing its welcome. Some could even have been expanded without undue wear and tear on the listening ear. Just a couple of highlights will suffice to give you an idea of the music. Take "The Siege." It begins with bass and distorted guitar doing some original sounding, abstract but Rock fused motifs that the drums follow. Then the guitar gets out in a fanfarish, notely way while Lane's bass blasts a distorted line that has deep resonance and the drums freely rock without a beat or pulse. This is powerful. Now Adam goes it alone with distorted chaos and really digs into it. Then back to the head while Lane flips out! "ChiChi Rides the Tiger" has a swinging head with a densely rhythmic, minor bluesy line all participate in, then a funky riff in seven and off to a guitar solo against the riff for the bass and drums. Lopes plays some nice guitar. He's not big on chops but what he plays is right and conceptually out with Rock overtones and a dry distortion. I'd much rather hear that than just super technique for its own sake. He's got big ears and plays out in interesting ways—with distorted chords and bends while bass and drums rock out boisterously in seven. The piece signs off with some vintage Hendrix-like feedback. The album concludes dramatically with a blazing Adam Lane in "Perched Upon An Electric Wire." It's Lane alone, riveting the listener with a strongly droned bass sawing. It is a stunner of an ending. This is very easy to recommend. What is When is a cornerstone release among the outside guitar trios I've heard of late"  Grego Applegate Edwards / Cadence Magazine review
—
"La Clean Feed si conferma label di riferimento per la musica d'avanguardia. Di solito pubblica lavori di musicisti americani. Ma ci sono diverse, e meritevoli, eccezioni, come il sassofonista Rodrigo Amado e – in questo caso – il chitarrista Luis Lopes, che troviamo alla guida di un trio internazionale insieme al contrabbassista statunitense Adam Lane e al batterista israeliano Igal Foni.
I tre mischiano con intelligenza punk, free, freefunk, rock, con l'energia della chitarra prepotentemente in primo piano in un paio di brani. Ma non mancano atmosfere di insolita poesia, in brani come il lungo "Cerejeiras," che procedono sghembi su percorsi che delineano una storia raccontata a bassa voce. È uno dergli aspetti del trio, che subito dopo, ad esempio in "The Siege," riprende a riversare colate di lava su chi ascolta. Un'energia primordiale, un modo rozzo ed allo stesso tempo raffinato (i brani sono costruiti con logica ed i musicisti conoscono bene i percorsi intrapresi) di interpretare il trio per chitarra e ritmica.
Quel che colpisce di più è che con le loro sonorità distorte sono in grado di raccontare qualcosa, più innamorati di quello che vogliono dire che del suono in quanto tale. L'avanguardia nelle loro mani acquista un volto familiare, che nelle sue tante sfaccettature ha quel qualcosa di particolare che sveglia il senso uditivo dell'ascoltatore"  ∗∗∗∗ (4 stars in f5)  Vittorio lo conte / All About Jazz Italy
—
"It was an honor for me, your humble servant, to be asked to write the liner notes for this album by Luis Lopes, Adam Lane and Igal Foni, a group whose performance I saw in Lisbon, Portugal, two years ago. Here is the text (with thanks to Scott Fields).
"What blues, early rock 'n' roll, and punk have in common, the source of their shared strength, is a dominating, unique, and truthful expression of emotions – sadness, anger, fear — sometimes in spite of musicians' limited instrumental skills. These genres have a direct and true authenticity that is often so much more valuable than the cerebral polish that comes out of music schools. This trio taps that true source of music: our human emotions. And despite these three musicians' obvious skills on their instruments, they strip their music of all unnecessary ornaments, accessories, digressions, tinsel, and decorations. And even if there is a musical structure underpinning the compositions, the performances themselves, steering clear of the cerebral, are stripped to the music's bare essence. The brain and instrumental technique are not switched off; they are bypassed.
You still get the sophistication of jazz, rhythmic complexities, complex scales and harmony, yet deliberately working outside those elements at the same time. But they stick to their unique vision: raw, true and authentic music. Real music. These three young jazz musicians play, despite the obvious jazz form of the music, blues, rock 'n' roll and punk at heart, with a touch of menacing darkness at times.
Portuguese guitarist Luis Lopes is an absolute master of finding the right note, of finding the right pace, a rare quality among guitarists these days. He is not into pyrotechnics. Better still, he seems averse to flash. It's all about the music. The tone of his instrument is deep, sometimes slightly distorted, with limited sustain, leading to a dirty sound that softens to gentle and clean in the more lyrical moments.
Adam Lane is, as well as an excellent composer, a wonderful and versatile bassist. And although his electronically amplified bass can bring him into uncharted regions, his tone and compositions always carry that bluesy feeling.
Israeli drummer and former "genius goalkeeper" Igal Foni is less known. He has already recorded with Michael Attias and Avram Fefer, yet he clearly deserves wider attention. He is the perfect percussionist for this trio's musical vision: subtle when needed, wild by nature, and creative at all times. He doesn't restrict himself to his drum kit; in his eyes anything that can be beaten is an instrument.
The album will take the listener on a journey through diverse territory, starting with the odd-metered, changing repetitive phrasing of "Evolution Motive," over the beautiful and slow "Cerejeiras" (again, listen to how few notes Lopes needs to tell his story), along the weird oddity of "Eufoni," on which Lopes and Foni exchange instruments (which luckily doesn't last too long), over the rockish "The Siege," into avant realms with "Street Clown," an improvised piece driven by Lane's bass, with Lopes playing little notes à la Joe Morris, yet more controlled, along the slow and bluesy "Melodic 8," (penned by Lane), which Lopes joins by playing one note every five seconds before"  ∗∗∗∗1/2 (in 5)  Stef / Free Jazz review
—
"Evolution Motive nést pas pour rien dédié à Sonny Sharrock (ce même theme est aussi dédié à Darwin mais cela dépasse de loin mes competences). Il y a dans le jeu compact et charnu du portugais quelque chose qui se raproche de lámericain. Mais le balayage est moins stupéfiant, le folie moins furieuse, moins spatiale. Il y a chez le guitariste portugais et son épatant trio (Adam Lane, maître en distorsion et archet revêche; Igal Foni, expert en figures pleines et continues) quelque chose qui renvoie aussi à Hendrix, à Bailey et à la revenante Monette Sudler. Quelque chose qui s'entête à se débarrasser des phrases touts faits et à faire. Le jeu de Luís Lopes aime ainsi à passer el repasser par les mêmes cases (Chichi Rides the Tiger), le tout sans obsession mais avec une rare économie de gest (láuditeur será ainsi invité à se poser la question du pourquoi de l´éclatement dês solos du guitarriste). Amis soniques de la première heure, ce disque est pour vous"  Improjazz
—
"Portuguese guitarist Luís Lopes came to some listeners' attention on last year's Humanization Quartet release. With a highly quirky style­ – small squiggly lines, elastic phrasing beyond or behind bar lines, and an occasional mischievous noisiness – he struck me right away as an original. This powerful trio date confirms that and then some. He's got a Blood Ulmer thing happening in a big way, specifically the Blood Ulmer of Revealing, as he cuts against the fertile counterlines of bassist Adam Lane and drummer Igal Foni. But he remains very much his own man, and I love his idiosyncrasies, especially his weird habit of doing little rubbery spasms, like his guitar is spring-loaded. I hear more attention to dynamics on this release, as on the twitchy "Evolution Motive" and the rousing "Spontaneous Combustion." There's also considerable sonic range, as when Foni and Lopes trade instruments on the brief, computery-sounding hiccup "Eufoni" before the trio roars into the distorted majesty of "the Siege." More of this with tiny noises from tiny toys on "Street Clown Girl," which lurches forward, as Lopes moves from delicate pick-taps near the pickups to spidery lateral movements. There's also some serious soulfulness, and I attribute a lot of this to Lane, whose playing on "Melodic 8" recalls the great Fred Hopkins, and who is key to the resolute ballad "Cerejeiras," where the dark clouds from his distinctive and exquisitely controlled arco set the table wonderfully. Foni is a fantastic, varying timbre as often as he does tempo, a trait that works well with Lopes, whose furtive gestures sometimes avoid pulse; elsewhere, as on the exultant reading of Lane's "ChiChi Rides The Tiger," the drummer digs in energetically"  Jason Bivins / Signal To Noise
—
"Portuguese guitarist Luis Lopes defies rigid classifications due to his rather unconventional mode of execution witnessed on this persuasive trio date, featuring American rising star bassist/composer Adam Lane and rock solid, Israeli drummer Igal Foni. It's a mesmeric gala, brimming with circular themes, and fractured movements.
The guitarist's patchy voicings ride atop the rhythm section's bustling cadences, where the band instills a sense of perpetual motion. Here, Lopes dissects and interlinks concise patterns into a semi-structured program, in concert with tangible motifs and the musicians' ardent improvisational maneuvers. Lopes is a stylist and uses closed-hand tapping techniques while putting matters into overdrive via his cross boundary exercises. He merges free, jazz-rock with dynamic, hard-core experimentalism.
On "Cerejeiras," the trio conveys temperance with a sinister backdrop, accentuated by Lane's creaky, arco-based notes and Lopes' diminutive phrasings. But they kick up a storm during aptly titled, "The Siege," as Foni offers a tumultuous undercurrent. Then Lane stretches with his airy and pensive solo on "Melodic 8." In other regions of sound, they launch booming unison ostinatos and venture towards off-kilter metrics, occasionally abetted by Lopes' haze of progressive-metal like, crunch chords and odd tunings.
The trio casts an abundance of tantalizing propositions throughout this veritably, exciting album, and shun the paths frequently travelled. Each piece stands on its own, and it this point in time, I sincerely hope the unit records again. Marked by diametrically opposed angles and odd-metered song-forms, the artists maintain a keenly identifiable, group-centric methodology"  Glenn Astarita / Jazz Review
—
"In questo recente gruppo di uscite troviamo per esempio un trio chitarra-basso-batteria formato dal portoghese Luís Lopes, dall'americano Adam Lane e dall'israeliano Igal Foni, nel quale il materiale di base è fornito dalle composizioni dei primi due su cui si struttura un'improvvisazione decisamente irruenta"  Alessandro Achilli / Music Jazz Review
—
"De Luís Lopes já recentemente nos tinha chegado o Humanization Quartet, com Rodrigo Amado e os manos Gonzalez na secção rítmica – um dos pontos altos do ano passado para o jazz português. De Adam Lane conhecemos os trabalhos na Clean Feed, particularmente a sua enérgica participação no já icónico "4 Corners". Os dois juntam-se ao baterista Igal Foni para uma música que, apesar da evidente natureza jazzística, se vai desenhando rugosa, pouco "straight", pouco "clean". E se a guitarra de Lopes não é conservadora (nem o é o seu fraseado), Adam Lane é ainda menos convencional: com a amplificação em excesso, consegue transformar o seu contrabaixo num instrumento ao serviço do rock pesado. Entre composições de Lopes – destaque para o tema inaugural "Evolution Motive (For Charles Darwin & Sonny Sharrock)" -, de Lane (com mais um comeback da óptima "ChiChi Rides the Tiger") e as improvisações livres em trio, este é um disco pouco habitual. Há um espírito rock que assombra (positivamente) o disco, numa irreverência que puxa a música bem para lá do tradicional cânone jazz típico. O grupo é no entanto capaz de navegar em extremos opostos, como no tema "Cerejeiras" (tema de Lopes, claro) que entra num registo sentimental de quase balada – e mostra que consegue fazer a guitarra soar límpida como nunca. Esta música poderá, em alguns momentos, ser acusada de ser pouco limada. Essa não será certamente a maior preocupação dos músicos, que trataram de investir neste projecto com suor e intensidade"  Nuno Catarino / Jazz.Pt
—
"Guitar, double bass and drums, following the artist's names order. Lopes thinks intensely to Sonny Sharrock (the dedicatee of the initial track "Evolution Motive" together with Charles Darwin) but also winks to early John Scofield, jarring angularity and a substantial dose of edginess still prevailing on the mass-approved tolerability of a fusion-tinged bluesy style. He's a rather abstemious soloist after all, paying special attention to the correct placement of notes, not exactly longing for the sanitization of his sullied tone, which is a good thing in terms of originality. Lane offers a great performance throughout, the foremost traits being an overdriven bark containing the multi-purpose password for an actual crossing of genres and a grimily involving, arco-generated drone particularly manifest in the nearly elegiac "Cerejeiras" and in the closing solo "Perched Upon An Electric Wire". Israel's Foni is a surprise, at least to this writer who met him here for the first time. Freely flowing yet adult, constantly conscious about the place to be at every juncture, present at the right moment to unchain the bolder handiwork. A responsive companion for Lopes and Lane's swapping of blows, a propulsive activity that never deteriorates"  Massimo Ricci / Temporary Fault review
—
"O guitarrista lisboeta Luis Lopes iniciou a sua formação musical no Hot Clube de Portugal, mas foi do rock que partiu. Em "What is When" faz-se acompanhar de Adam Lane e Igal Foni, o primeiro um contrabaixista e compositor de excelência que vê em Duke Ellington, Karlheinz Stockhausen e Melt Banana as suas maiores influências e o outro um menos conhecido baterista de Israel que lidera os Genious Goalkeeper. A primeira faixa do álbum, "Evolution Motive", funciona quase como um manifesto, com uma dupla dedicatória a Darwin, o teórico do evolucionismo, e a Sonny Sharrock, praticamente o único guitarrista do período áureo do free jazz. É como se nos fosse dado um plano de identificação formal, normativo e simbólico. As referências estéticas são muitas, na perspectiva do avant-jazz, mas buscando contactos com os blues eléctricos, o punk e até a música contemporânea. No tema de abertura, a guitarra entra com um ostinato que vai sendo explorado e desconstruído continuamente. Em "Spontaneus Combustion", Lopes Trabalha com Texturas de carácter pontilhístico, com o contrabaixo a assumir, num tradicional registo em pizzicato, a predominância a nível do discurso musical, a bateria surgindo apenas com pequenos apontamentos. A estrutura é mais próxima da estandardizada e tem um registo de free jazz, com secções de exposição do tema intercaladas com desconstruções do mesmo. A coesão entre os três elementos é evidente e o modo como funciona a nível de interactividade entre os instrumentistas confere um carácter único à música. "Cerejeiras" arranca com um solo percussivo de métrica livre e quebrada, num jeito quase "ad libitum", entrando a guitarra de seguida, com motivos de carácter essencialmente tonal-modal, para depois Lane tocar harmónicos com o arco segundo técnicas sul ponticello, pouco frequentes no jazz. O contrabaixo caminha para bordões cada vez mais dissonantes, explorando os recursos do instrumento. "The Siege" faz-nos lembrar algo próximo da música de grupos como Melt Banana, ou mesmo Zu. O nível de sofisticação sobe e se neste tema as conotações são mistas de punk e free, em "Street Clown Girl" as influências da música erudita contemporânea tornam-se óbvias. Regra geral, os músicos dirigem-se progressivamente para um clímax, ao qual sucedem situações mais calmas. Em "Melodic 8" começa o contrabaixo, com Adam Lane a recorrer a "loops", depois entra Foni e finalmente Lopes, que ganha predominância solística num registo de monodia acompanhada. A nível de tensão e de forma, há um certo carácter de simetria. Em "Chichi Rides The Tiger", já quase um cartão de visita do contrabaixista americano, essa tensão é cumulativa. Até estilisticamente, indo de um jazz "old school e "straight" para algo no cruzamento com o rock. O final é um dos pontos altos do CD, com um discurso tenso, profundo e arrojado"  ∗∗∗∗ (em 5)   Tiago Morgado / jazz.pt
—
"Este power trio une as malhas insólitas e as sonoridades avinagradas da guitarra do português Luís Lopes ao vigor do contrabaixo (por vezes com distorção) do norte-americano Adam Lane e à bateria hiperactiva do israelita Igal Foni, que assoma nos lugares e tempos mais inesperados. What Is When cruza a liberdade do jazz com a emoção à flor da pele e rudeza do rock e nunca solidifica em fórmulas consabidas. Os pontos altos são "Melodic 8", planante e hipnótico, e "Chichi Rides the Tiger", um tema de Lane que ameaça converter-se num clássico e que nesta encarnação arranca em toada jazz rock e aumenta de temperatura até se incendiar num frenesim sonoro free punk. O CD fecha com "Perched Upon a Electric Wire", um abrasivo solo de contrabaixo com arco" ∗∗∗∗ (em 5)  José Carlos Fernandes / Time Out Lisboa